New projection screens Cobra and Polichinelle at ISE 2018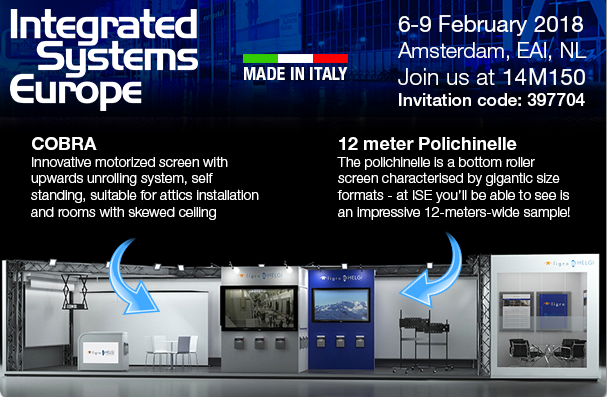 Helgi is proud to invite you at ISE in Amsterdam (booth 14M150), from 6th to 9th February 2018, to come and see our new projection screens:
COBRA Projection screen
Innovative motorized screen with upwards unrolling system, self-standing, suitable for attics installation and rooms with skewed ceiling; buildings of historical and architectural relevance and anywhere it's impossible to drill holes in the wall or ceiling; theatres, cinemas and stages; yachts and boats; renting or service equipment. The ideal solution for Architects!
Download the brochure
POLICHINELLE Projection screen
We are proud to present at ISE 2018 a 12-meter polichinelle motorized projection screen. With the polichinelle technology the projection screen is rolled up and down over a large diameter tube positioned in the lower part of the screen itself, through a system of steel ropes and pulleys. This technology allows a perfectly planar canvas and is suitable for large projection cinema screens.